---
The Only REAL Punk/Ska Midi Site on the NET!
We now have MP3s!
Largest Collection of Punk/Ska Midi's! (that I know of)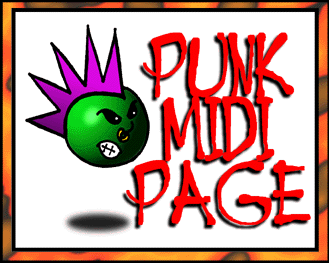 *new logo, someone made it for me, thanks! If you'd like to see the old one I made, click here*
---
Unity... Learn it, Live it...
---
PUNKMIDI'S!
*in alphabetical order*
---
---
NOTE: If you have sent me midis recently and they're not here, try putting them to a download URL instead of attaching them to an e-mail. Hotmail is being a pain in the butt. Please re-send those midis to me somehow because I'd like to get them on the site
---

More Punk/Ska Midi?
I realize that there are still many mainstream midis here, but if you look on the internet for punk/ska midis, you'll find out that there isn't much. So I try my best to put together a good collection of punk/ska midis, with what I get.
If you don't think there's enough midis here or that this page doesn't have the midis you like, then send me some midis. This page is what you guys and I make of it. I can't expand this collection very much on my own, so if you see a Ska/Punk midi that I don't have, then send it in!
I strongly advise joining the mailing list because I don't update on a regular basis, only when I get new midis. Join the mailing list and you're be notified when there's been an update.

---


---


Here's the Midis and Mp3s:
Midis

Legal Mp3s (you may need to scroll down, not many mp3)

A
E
J
K
L
R
V
X
Y
Z
A
B
C
D
E
F
G H
I
J
K
L
M
N
O
P
Q
R
S
U
V W
X
Y
Z
---


---

---

Links to other pages that linked me...
the colonel and his adventures in bananaland - poorly drawn comics about me and my friends
Midi Maven - large selection of midis, big site, lots of stuff
Sex Pistols Online - nice SP site.
Great Links Page - Large links page, I returned the link even though my site only got 3 stars
Reeds Fat Music Shack - MIDI'S MP3'S and demo songs for the band "Last Hand Dealt"
bAV-tOPINE's Midi Vault - many good midis. check this one out.
Ska and Punk and anything else I wanna put on it... - great page! I shamelessly stole the midis he had that I didn't.
nosmile's Music page - nice page, variety of different music with sounds, pics, etc.

---

How to add midi's to your own website:
Add this line of html code to your webpage where you want the player to appear:
<embed src="MidiName.mid" width=145 height=45 loop=false autostart=true>
Note: Make 'loop=true' if you want the midi to restart when it ends. Also, make sure the midi file is in your web directory.
Or use this code is you don't want the MIDI player to appear:
<bgsound src="midiname.mid" loop="-1">
The -1 loops infinatly or use a positive number to set the number of times the *.mid plays.

---

Before you e-mail me, READ THIS:
I'm tired of getting e-mails from people that have all their different definitions of punk music. Some people demand more mtv shit and others talk about how cool they are and how "underground" they are. I believe that punk rock has everything to do with thinking for yourself and not always following popular culture. I try to make the closest thing I can to a punk midi page, since you can't find really good punk midi's on the internet. If you don't like the midi's, how bout you make some good punk midi's and send them to me? Instead of bragging about how hardcore you are. If you don't like the webpage, then you can go somewhere else for all I care. This is a page for people that want the closest thing to punk/ska midi on the net.

---

stephenmassey99@hotmail.com
AIM: greyfire18
ICQ: 504278

---
search engine crap below...
punk midi punk midi punk midi punk midi punk midi punk midi punk midi punk midi punk midi punk midi punk midi punk midi punk midi punk midi punk midi punk midi punk midi punk midi punk midi punk midi punk midi punk midi punk midi punk midi punk midi punk midi punk midi punk midi punk midi punk midi punk midi punk midi punk midi punk midi punk midi punk midi punk midi punk midi punk midi punk midi punk midi punk midi punk midi punk midi punk midi punk midi punk midi punk midi punk midi punk midi punk midi punk midi punk midi punk midi punk midi punk midi punk midi punk midi punk midi punk midi punk midi punk midi punk midi punk midi punk midi punk midi punk midi punk midi punk midi punk midi punk midi punk midi punk midi punk midi punk midi punk midi punk midi punk midi punk midi punk midi punk midi punk midi punk midi punk midi punk midi punk midi punk midi punk midi punk midi punk midi punk midi punk midi punk midi punk midi punk midi punk midi punk midi punk midi punk midi punk midi punk midi punk midi punk midi punk midi punk midi punk midi punk midi punk midi punk midi punk midi punk midi punk midi punk midi punk midi punk midi punk midi punk midi punk midi punk midi punk midi punk midi punk midi punk midi punk midi punk midipunk midi punk midi punk midi punk midi punk midi punk midi punk midi punk midi punk midi punk midipunk midi punk midi punk midi punk midi punk midiska midi ska midi ska midi ska midi ska midi ska midi ska midi ska midi ska midi ska midi ska midi ska midi ska midi ska midi ska midi ska midi ska midi ska midi ska midi ska midi ska midi ska midi ska midi ska midi ska midi ska midi ska midi ska midi ska midi ska midi ska midi ska midi oi oi oi oi oi oi midi oi oi oi midi oi midi oi oi oi oi midi oi oi oi midi oi midi oi oi oi oi midi oi oi oi midi oi midi oi oi oi oi midi oi oi oi midi oi midi oi oi oi oi midi oi oi oi midi oi midi swing midi swing midi swing midi swing midi swing midi swing midi swing midi swing midi swing midi swing midi swing midi swing midi swing midi swing midi swing midi swing midi swing midi swing midi swing midi swing midi swing midi swing midi swing midi swing midi swing midi swing midi swing midi swing midi swing midi swing midi swing midi swing midi swing midi swing midi swing midi swing midi swing midi swing midi swing midi oi oi oi midi oi midi oi oi oi oi midi oi oi oi midi oi midi oi oi oi oi oi oi oi midi oi midi oi oi oi oi midi oi oi oi midi oi midi oi oi oi oi